Hukarere Station, West Otago, New Zealand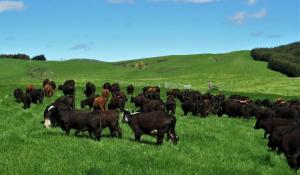 Quintin and Rebecca Hazlett are proud owners of a 7,740-hectare sheep and cattle station located in West Otago, New Zealand. After operating their station conventionally for 7-8 years, trying to solve issues with agrichemical and artificial fertiliser use, it all got rather frustrating when the results were not as expected. For every problem solved with a chemical treatment, another would take its place. The constant fight against nature didn't "feel" right and made them question the actions they were taking and if they could farm with nature in a more harmonious and sustainable way.
After questioning their actions, Quintin and Rebecca took the initiative and started doing some research. They developed an interest in holistic management, which led them to organic farming, where they found the organic philosophy much better suited for them and how they wanted to farm from that point forward. After a lot of determination and hard work, they became organically certified in 2007.
Looking back on 15 years of organic farming, they are still facing many farming challenges but enjoy the problem-solving aspect of the organic system and the opportunity to create solutions within a natural environment. They are pleased the families and people involved in Hukarere Station can take pride in what they produce and are not exposed to the chemical risks of conventional farming. They are thrilled to be able to deliver high-quality food to the market and are proud to supply consumers with certified organic produce.