Australia Organic Meats History
The Australian Organic Meats Group is a partnership of two long-established agricultural families with a history of organic and sustainable agriculture. The Tully and O'Leary families each represent more than a century of Australian agricultural heritage and are foundation members of the Australian organic movement. Their families have demonstrated the importance of farming in harmony with the natural environment. They value integrity, loyalty, and reliability, as well as their rural heritage.
The AOM Group's reputation for consistently high-quality goods stems from its long-standing supply chain partnerships. They think that each partnership they form with their network of producers is critical to their ability to deliver a diverse selection of products to their valued customers.
Visit AOM or find them on Instagram
Simone and Shane Tully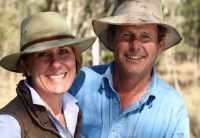 On the Queensland-New South Wales border, director Simone Tully and her husband, Shane, own and run an 8,000-acre certified organic farm. Simone's family has a strong background in farming since the early 1900s.
Their organic story started when Shane and Simone bought Bingara Station, a 240,000-acre sheep and cattle station in far Western Queensland in the early 1990s. Simone began to develop her interest in organic production systems and marketing from there. Since then, she has been at the forefront of the Australian organic industry's worldwide export growth and supply chain relationships.
Simone and Shane's passion for offering high-quality organic products and delivering them by a professional, reliable supply chain has been crucial in the company's quick development.
Matt and Julie O'Leary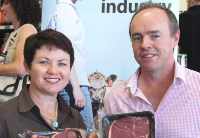 Director Matt O'Leary and his wife Julie live in New South Wales, Australia. Matt's family has a long history of farming, going back to 1902. Matt is a fourth-generation farmer who began his organic adventure in 1987 when he transitioned to a more sustainable farming system and was certified organic in 1989.
Organic was seen as the way of the future by the O'Leary family. Their dedication to providing cleaner, greener food and caring for the environment is shown by their energy and enthusiasm for using sustainable farming practices. The wholesaling operation began to take shape, and in 1990, as demand for O'Leary products grew, Australian Organic Meats was formed.